01 October 2023 - Mark Edwards Solo exhibition
Our biennial exhibition of paintings by the hugely talented Mark Edwards. Nearly 30 new paintings are on display.
01 April 2023 - Figures Exhibition
Our latest exhibition in Bath features paintings by some of our fantastic figurative artists. These include Michael Alford, Muriel Barclay, Stuart Buchanan, Simon Garden, Joan Gillespie, Catriona Millar and Morag Muir. This exhibition runs from 25 March - 8 April.
01 April 2023 - Welsh Landscapes Exhibition
Our latest exhibition in Stow on the Wold features the work of Martin Llewellyn, Peter Morgan and Tim Fudge. This exhibition is at our gallery in Stow on the Wold in April 2023.
01 March 2023 - John Lines and Heather Moseley Exhibition
Our latest exhibition in Stow on the Wold features the work of John Lines and Heather Moseley. This exhibition runs from 18 March - 1 April 2023.
09 July 2022 - Scottish Exhibition - Opens today
Our Annual Scottish Exhibition opens today in Stow on the Wold. The exhibition features over 100 new paintings from twenty Contemporary Scottish artists. The exhibition runs until the end of August.
01 June 2022 - New Artist - Michael Alford at Red Rag Gallery in Bath
We are delighted to announce that Michael Alford is now showing with Red Rag Gallery in Bath.
01 May 2022 - New Artist - Stephen John Owen at Red Rag Gallery in Bath
We are delighted to announce that Contemporary Welsh artist Stephen John Owen is now showing with Red Rag Gallery in Bath.
01 July 2021 - Scottish Exhibition
Our annual Scottish exhibition opens at Red Rag Gallery in Stow on the Wold (Cotswolds) on Saturday 3 July. The exhibition runs until the end of August. This year we feature works by several new Scottish artists including Joan Gillespie, Stephen Mangan, Astrid Trugg.
01 May 2021 - New Scottish artist at Red Rag Gallery in Stow and Bath
We are delighted to announce that Joan Gillespie is now showing with Red Rag Gallery. The diversity of Joan Gillespie's work is quite extraordinary. It ranges from enchanting collection of Portraits, Figurative works, Landscapes and Still Life. Her fresh-faced portraits definine the essence of feminine grace and beauty. She captures the cool, calm poses of young women through the simplicity of quick, broad brushstrokes with just a couple of lines.
01 September 2020 - New Nael Hanna paintings now in the gallery
13 July 2020 - Scottish Exhibition
Our annual Scottish Exhibition is now on at our gallery in Stow on the Wold. The exhibition lasts until 31 August 2019 and featured over 150 paintings from some of Scotland's best contemporary artists.
11 May 2019 - Mark Preston - Solo Exhibition (11 - 26 May 2019 at Red Rag Gallery in Stow on the Wold)
Our third Solo Exhibition for Mark Preston at our gallery in Stow on the Wold. Mark has traveled to Cornwall, the Lake District and Derbyshire for the work in this latest collection which comprises over 30 brand new paintings.
20 March 2018 - Latest Show at Red Rag


Starting 24 March is the latest Red Rag show.
It is a solo show of stunning new paintings, by renowned British artist Andrew Macara.
Macara has an extensive and varied body of art work created over more than four decades.
He has a unique capacity ' whatever the subject ' to capture the essence of a scene with apparent ease, excluding extraneous detail.
To purchase paintings or for further information :
CALL RED RAG NOW on 01451 832563 or outside UK + 44 1451 832563
15 March 2018 - Royal Society of British Artists Show
The Royal Society of British Artists (RBA) 301st exhibition commences 21 March.
The show takes place at The Mall Galleries, London.
The exhibition is sourced from member artists.
On show is an eclectic mix of style and media.
The RBA promotes painting, sculpture, printmaking and drawing.
The show opens at 10:00 each day until 31 March
01 March 2018 - Scottish Art in Bath
The latest exhibition at Red Rag in Bath is a mixed show featuring leading Scottish artists
The show starts on 3 March and continues until the 25 March.
The gallery is open from 10:00 each day including Sundays.
Artists included in the show are:
Hope Blamire, Judith Bridgland, Nael Hanna, Joe Hargan and Charles Jamieson
10 March 2017 - Renowned British artist dies
British artist Howard Hodgkin has died.
He was born in London in 1932 and was known for bold abstract paintings
His colourful works were often inspired by the landscapes of India.
Hodgkin studied at Camberwell School of Art and Bath Academy of Art.
He won the Turner Prize in 1985 and was knighted by The Queen in 1992.
His work has been shown around the world.
Major retrospectives have taken place at New York's Metropolitan Museum of Art and Tate Britain.
23 February 2017 - Latest artist to show with Red Rag
Red Rag's interest in works by Scottish artists has expanded.
Nikki Monaghan's paintings are now available from the gallery.
Monaghan has a quirky take on landscapes, seascapes and figures.
Nikki's work is rich in colour and pattern.
Further information available from the gallery on 01451 832563
02 February 2017 - Out of the Ashes
Glasgow School of Art
Some of the biggest names in British art are helping to raise funds for GSA.
They include: Grayson Perry to Anish Kapoor and Antony Gormley.
Artists have created artworks from ashes of the fire gutted Mackintosh building.
The art works will be auctioned by Christie's in March.
The aim is to raise £13.5m to rebuild the Mackintosh-designed building.
01 February 2017 - Scottish Landscapes at Red Rag
Stunning Scottish landscapes at Red Rag Bath
Featuring fine oil paintings by Helen Turner.
Turner paintings are strong, powerful art works
Her landscape paintings are rich in subject matter and tone.
She is a master at capturing the atmosphere of moments of time.
Part of the enduring appeal is light and shade in her art works
28 January 2017 - Latest works from Catriona Millar
Quirky new oils from Catriona Millar now at Red Rag Bath.
Scottish artist Catriona creates captivating oils of people, animals and birds.
Her fascination with faces is evident.
And, many art collectors have been drawn to the work.
As a result her paintings are in collections across the globe.
22 January 2017 - It's a Mystery
New works featuring the mysterious world of Mark Edwards now available at Red Rag
His white Wood paintings are in the tradition of British surrealism.
In a wintery forest men wearing large overcoats and bowler hats stand in woods.
Steam trains and railway architecture appears in the landscape. But why? It's a mystery ....
Mark's paintings are in the Stow gallery
10 January 2017 - New works from Jane Cruickshank
Superb new still life works from Scottsh artist Jane Cruickshank at Red Rag Bath
Jane produces fine still life pieces.
She is fascinated by the everyday objects particularly of times past.
Antique books and pots are common themes in her oil paintings.
Her work has the appeal of the old masters but are in a contemporary style.
02 January 2017 - Wildlife Sculptor at Red Rag
Works from leading British sculptor Adam Binder are now available at Red Rag
Primarily Bronzes with earthy rich patinas, his work is in collections all over the world.
He is a Member of the Society of Wildlife Artists
He is also a past winner of the David Shepherd Wildlife Artist of the Year.
24 November 2016 - David Hockney design
Influential British artist David Hockney is to design a window for Westminster Abbey.
The 20 x 6 feet window will be known as The Queen's Window
Located in the north transept of the gothic Abbey.
The cost is being funded by two anonymous benefactors.
The window is due to be unveiled in June 2018

20 May 2016 - Latest Show
Starting this weekend at Red Rag in Bath
British Landscapes - artist Rex Preston
A solo show by highly acclaimed artist Rex Preston
Nearly 40 new pieces will feature in the show

The show starts Sunday 22 May
It continues until the 5 June

Red Rag is open daily from 10:00 daily
'Early Morning, Windermere' an oil by Rex Preston
24 April 2016 - First Woman VP
Red Rag artist Rosa Sepple has been elected Vice President of RI.
Rosa becomes the first woman to take-up the post.
She has been a member since 2004
Rosa said: 'I feel priviledged and honoured to have been elected.'
She was born in London of Italian/Britsh parents
01 April 2016 - British Artist Turner to appear on new £20 notes
Bank of England Governor Mark Carney announced today Friday 22 April that the artist Joseph Mallord William Turner is to appear on the new £20 note.
The new note will feature a self-portrait of Turner and also his 1838 oil painting The Fighting Temeraire tugged to her last berth to be broken up.
Talking about the new Bank note Bank of England Governor said "Turner is perhaps the single most influential British artist of all time.
His work was transformative, bridging the classical and modern worlds. His influence spanned his lifetime and is still apparent today."
01 February 2016 - Painting the Modern Garden: Monet to Matisse
Latest show at the Royal Academy examines the role gardens played in the evolution of art from the early 1860s through to the 1920s.
Using the paintings of Monet as a starting point the exhibition traces the emergence of the modern garden.
The show explores a period of great social change and innovation in the arts.
The show runs until 20 April. It features important Impressionist, Post-Impressionist and Avant-Garde artists of the early twentieth century.
08 December 2015 - Winter Show
We are delighted to annouce the opening of the 'Winter Show'
Included are some great works from our gallery artists
Here is a little taster of what is in store for you.

Andrew Macara's winter scenes are always highly sought after.
So we are pleased to include both his small and large paintings in the show.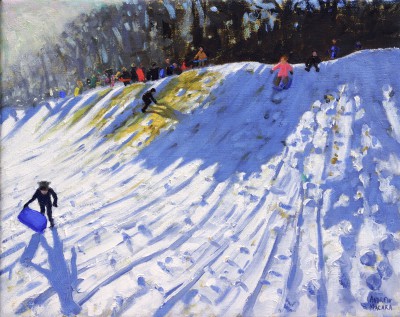 'Sledging 2nd Green' an oil by Andrew Macara
Another artist with a large following of collectors is David Barnes
David is a Welch artist who captures the wonderful landscape
His oil paintings featuring scenes of the Principality are striking


'Anglesey Coast' an oil by David Barnes
Also from Wales is artist Vivienne Luxton.
Vivienne is a great observer of the day to day
This is reflected in her charming depictations of people and animals


'Bringing in the Sheep' an acrylic by Vivienne Luxton
Another firm favourite at the gallery is Mark Preston.
Mark is a young artist with a remarkable talent
He has developed a reputation for producing wonderful landscape paintings


'Winter Sun' an acrylic painting by Mark Preston
Come and join the Winter fun!
The 'Winter Show' continues until the end of January.
All works in the show may be taken at time of purchase
For further information please contact the gallery 01451 832563
12 November 2015 - Latest Show at Red Rag
Starting this weekend at Red Rag in Stow
Andrew Macara RBA NEAC - solo exhibition
A solo show by one of the UK's leading artists
Over 25 new paintings will feature in the show

The show continues until December 5th

Red Rag Gallery is open daily from 10:00 daily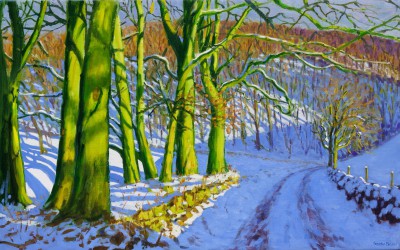 'Green Trees in Winter' an oil by Andrew Macara
01 August 2015 - Scottish Art
Taking place right now at Red Rag Gallery in Stow is the annual 'Scottish Show'.
Works from over 30 Scottish artists are in the mixed exhibition.
Scottish artists participating in the show include:
John Bell, George Birrell,Pam Carter,Frank Colclough Plus
Emma Davis, Denise Findlay and James Watt RGI
The show continues until the end of August.
The gallery is open daily from 10:00



'Yachts moored off Gourock ' by Robert Kelsey